I have to admit, I don't feel like I have very much to write about these days.  This last pregnancy has taken a toll on my sense of humor and my IQ.  Even sitting down to type these thoughts out, makes me feel rusty and out of sorts.  Oddly, I have more to say in under 140 characters on Facebook or Twitter than I do here, where I used to so freely allow my heart to bleed all over each post.
In this season of my life, I find it hard to switch into blogger mode.  Do people still even come here looking for something to read from me?  I honestly don't know.
I am not really even sure that my original intent to chronicle my journey through loss is finished or just on sabbatical.  I know that the grief will never be over, just altered.
Ironically, even though my words may be severely lacking, my art has flourished.  I have been freely creating pieces at a rate that I have never been able to before.  This of course, will change now that the baby is here (by the way, did you see his photo on the facebook page?  TOO CUTE).
However, I have been able to design new products from my art as well.  Seriously, the IPHONE cases are AMAZING!  I love mine and have given one as a "thank you" to each of my three midwives.  They LOVE them!  You can see and purchase them here, just click on the shop tab above and then on the IPHONE cases.  Here are a few examples of what I have finished so far.  There will be lots more to come.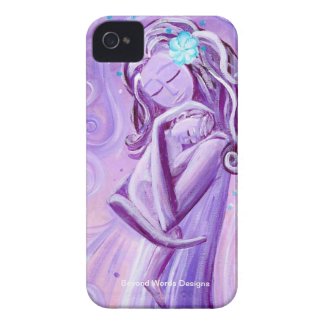 Mother and Child IPhone 4 Case
by
BeyondWordsDesigns
Find other Phone Casemate Cases at
zazzle.com